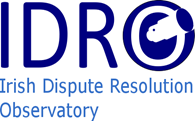 Coming Soon – IDRO: the Irish Dispute Resolution Observatory
IDRO is a free website which contains all the Irish Law on Arbitration and ADR in one freely-accessible searchable place on-line. It will also host a blog on Irish news and developments in arbitration and ADR. IDRO will provide a focal point to assist in the promotion of Ireland as a venue for dispute resolution and a one-stop-shop for those looking for the primary sources of Irish Arbitration and ADR Law.
ALL the Irish law in one place – for free
IDRO is a free website containing:
· Primary Legislation – such as the Arbitration Act 2010, and other Acts providing for statutory arbitration in Ireland
· Secondary Legislation – SIs and regulations relating to Arbitration and especially ADR.
· Case-Law – full-text judgments of the Irish Courts on Arbitration and ADR.
· Rules of Court – on all aspects of Arbitration and ADR.
· Procedural Rules – Arbitration Rules, Mediation Procedures, and other optional rules promulgated by Arbitration and ADR bodies in Ireland.
· Treaty Provisions and International Instruments relating to Arbitration and ADR to which Ireland is party.
· Bibliography of Secondary Sources – listing publications and articles on Irish Arbitration and ADR Law and procedure.
Up to date news and developments – putting Ireland on the map
IDRO will also host a blog discussing news, developments and events of interest in Irish dispute resolution. The blog will be in the style of well-known international Arbitration and ADR news blogs, and as well as keeping readers and subscribers up to date it will generate copy which can be fed to the International services and give Ireland greater presence in International Current Awareness. IDRO will partner with the Irish dispute resolution bodies to ensure high-quality and up-to-date entries in the blog.
IDRO – an open initiative
IDRO is an initiative of G Brian Hutchinson at the UCD Sutherland School of Law, University College Dublin, and it is made possible through seed funding provided by UCD Research. The primary content has been gathered and maintained by researchers in the UCD School of Law; and editorial content and updates will be generated in partnership with the Irish dispute resolution bodies.
OnLine soon at www.idro.ie
IDRO has already collected the laws and the web-site will fully available very soon.
Register here to notified directly by e-mail when IDRO comes on stream:
Your details will be kept securely and will not be shared with anyone else. We will only contact you about IDRO.
(c) 2015. WWW.IDRO.IE . E-mail: info@idro.ie